How to correct the date on the Aadhar card is incorrect
Now, updating the date of birth on the Aadhar card more than once will not be easy. As per the notification issued by the Unique Identification Authority of India (UIDAI) recently, you should not be surprised if you have to go to the Regional Office (Regional Office) to update the date of birth in Aadhar card. By now, it had to go to its registration center to correct the birth date, but that's not the case anymore.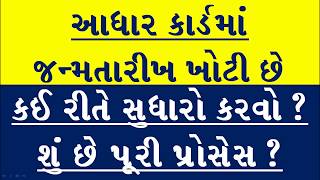 As per the instruction of UIDAI, a new sub-regulation has been added to the Aadhaar (Registration and Amendment) Regulations 2016. Accordingly, one can visit the Registration Center once to correct the date of birth. But if more than one correction is needed, the person will have to go to the Regional Office of UIDAI and go through a special process.
The person will also have to show the required documents to prove the date of birth. UIDAI has stopped the postal updating of support details. In accordance with Aadhaar's preliminary registration rules, the UIDAI also allowed people to update details by postal. This can now be done through the UIDAI Self-Service Portal (SSUP) or by visiting the nearest Aadhar Card Admission Center. UIDAI has launched a new service to address the problems of people who do not have a valid residence certificate.
After submitting the application for confirmation of address, a letter will be sent by the UIDAI to the person concerned, which will contain the secret PIN and the PIN will have to be registered on the SSUP of Aadhaar. The service has been proposed as a pilot project from January 1, 2019, which will come into effect from April 1, 2019.